SOULSVILLE FOUNDATION, STAX MUSIC ACADEMY AND STAX RECORDS HOLD SONGWRITING WORKSHOP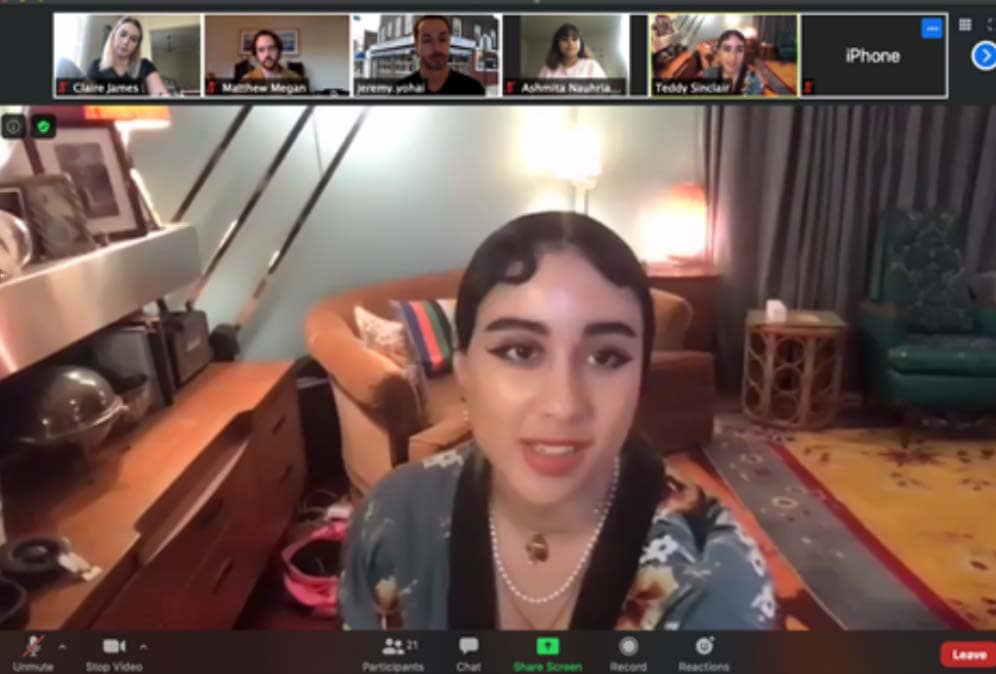 Memphis, TN – November 17, 2020 – Concord, in partnership with Stax Records, the Stax Music Academy (SMA) and the Soulsville Foundation recently held a six-week virtual event that paired high school students from the Academy with some of the top songwriting and publishing experts in the music business and a who's who of renowned songwriters and producers. The Songwriting Workshop Presented by Concord Music Publishing (CMP) was orchestrated by Concord to provide the Memphis-based Stax Music Academy (SMA) students with in-depth information about music publishing and offer critiques of their original music. The Songwriting Workshop will be an annual event that will take place during the fall semester.
A cohort of 25 high school aged SMA songwriting students were separated into five groups with five students per group, each completing an original song for the September start date. The songs were critiqued over zoom sessions hosted by Concord Music Publishing's Jeremy Yohai (SVP, A&R) with support from Matt Megan (Senior Manager of Special Projects) and a guest songwriters secured by Yohai:
Nate Fox is known for his long collaborative relationship with Chance the Rapper having worked on all of Chance's albums. Nate has also written and produced for established stars like DJ Khaled, DRAM, Joey Purp, Jamila Woods and more.
Cory Henry is an internationally renowned GRAMMY© Award-winning artist, composer, producer, multi-instrumentalist and keyboard master who has worked with Snarky Puppy, Ty Dolla $ign, Robert Randolph, Marcus Miller, Lauryn Hill, The Roots and Vulfpeck.
Judith Hill is the20 Feet from Stardom star who has performed with such artists as Stevie Wonder, Prince and the late Michael Jackson. Recently Judith has written songs that have been licensed for major ad campaigns by Target, Blue Moon, ESPN and Renaissance Hotels among others.
Teddy Sinclair is a British-born artist and GRAMMY©-nominated songwriter based in New York. Teddy has co-written songs that have been released by Rihanna, Madonna, Kiarra and DJDS/ Khalid among others. Her solo project Cruel Youth has independently garnered millions of streams, a cult-like following and features on the nostalgic all-star soundtrack for the TV series Godfather of Harlem.
Noah Goldstein is a GRAMMY®-winning songwriter, producer and engineer/mixer. Highlights from Goldstein's career include hits like Kanye West's "New Slaves," "Black Skinhead" and "Ultralight Beam." Recently, Goldstein co-wrote "Naeem" recorded by Bon Iver and "Sad Day" recorded by FKA Twigs.
During the workshops, students were allowed to ask a wide range of questions. The songwriters shared personal stories, gave career-oriented advice and offered feedback and suggestions on the students' original songs. Topics ranged from the difference between publishing and master recordings to how to improvise to make songs conversational, improving technical aspects of recordings, finding inspiration through emotion, improving a song's rhythmic flow and the importance of internships.
According to Michele Smith, Concord's VP, Estate & Legacy Brand Management, "When a group of SMA students visited Los Angeles in late 2019, Concord invited them for a lengthy tour of our offices and when they met with executives they asked so many pertinent questions about the music industry, particularly publishing. We were impressed and wanted to give them even more opportunity to engage with others on a more structured, personal level. This was the impetus for The Songwriting Workshop and we were excited to bring in these noted songwriters and performers to add one more layer to their music education."
SMA Executive Director Pat Mitchell Worley added, "SMA historically has been more of a performance-oriented music school and its students have taken their interpretations of Stax music all over the world to very prestigious venues in Australia, Italy, England, Germany, France and around the United States. Recently, we have begun to shift our focus to creating original music and studying music business with most classes and youth development sessions being done virtually now. This was an invaluable experience for our students. We are very grateful to Concord for partnering with us to make this possible."